Martyn Harris Karate and Self Defence classes in Cardiff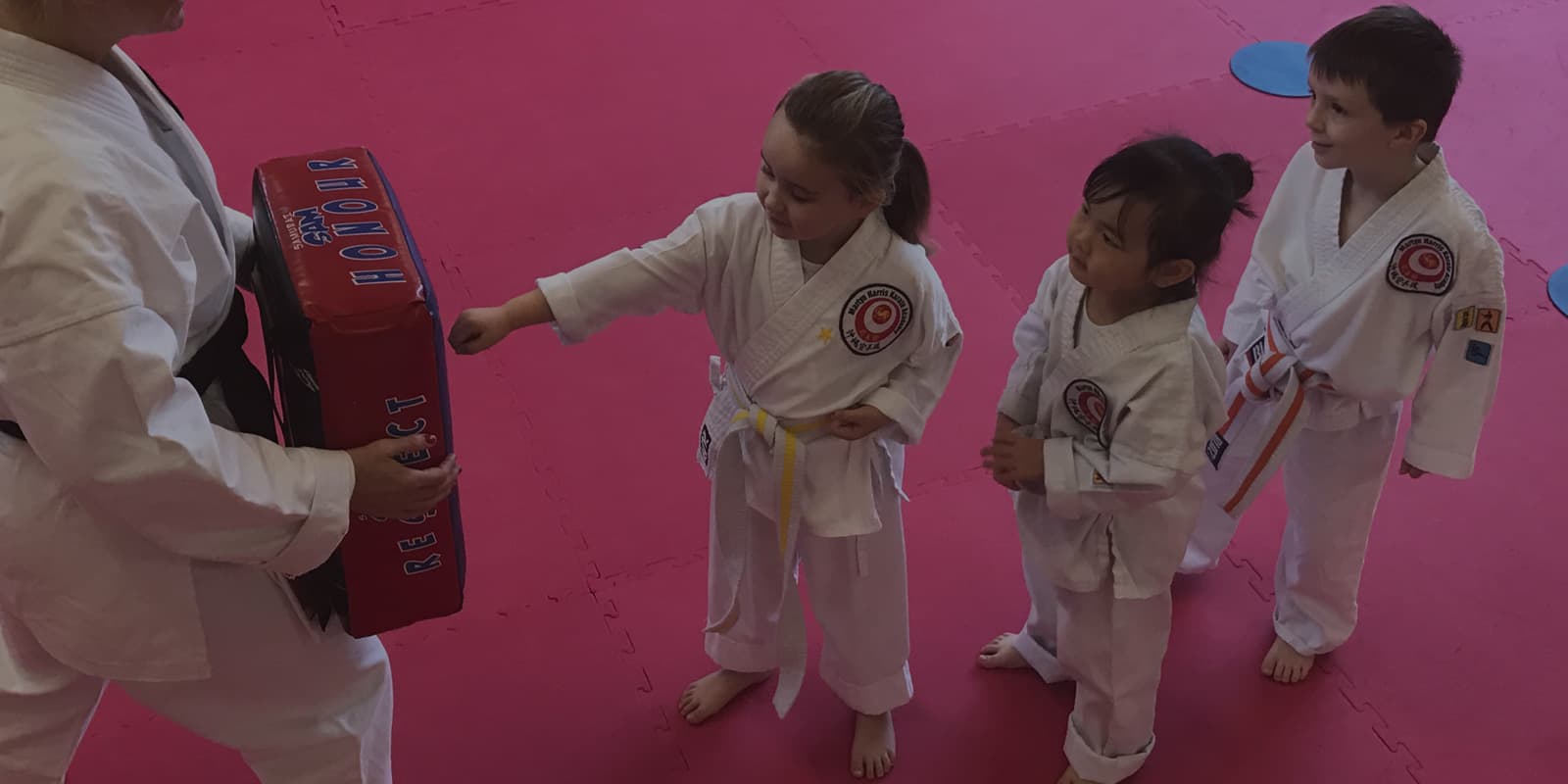 Tots - Age 3 to 4 years
Every Tuesday 4.30pm - 5.00pm
Every Saturday 9am - 9.30am
What we aim to achieve
This programme is taught by Renshi's wife, Sensei Emma Harris (1st Dan) and is designed as a basic introduction to non-contact karate movement that will enhance physical development in a fun and motivating way. Our tots program has been specially developed for our youngest students aged from 3 to 4 years.
We believe that it's never too early to get children active and involved. Most experts believe that the main focus for this age should be on general movement and play and we couldn't agree more.
Sensei Emma's approach is to make learning fun. Watching her class you will notice the children improve their hand/eye coordination, memory, focus and listening skills using positive reinforcement, which is also ideal for this age. Our system of merit badges and life skills patches is a great way to show little ones that effort and good work gets rewards.
This programme prepares them for graduation to our Infant Classes at age 5.

PLEASE NOTE DURING SCHOOL HOLIDAYS WE ARE CLOSED MONDAYS & TUESDAYS
What our parents say
Don't just take our word for it, take a look at what some our parents have to say...
The MHKA doesn't only keep my five year old daughter fit but has taught her to be more confident, respectful and has given her more discipline. She thoroughly enjoys every lesson, is learning important life skills as well as self defence and also making valuable friendships. Highly recommend!Genevieve Stansfield
Our son Tommy joined Little Dragons just before his 5th birthday. In the space of a few months his confidence has blossomed and he has learnt valuable life-lessons about respect, behaviour and hard work whilst having an enormous amount of fun. We feel very lucky to have MHKA in our lives.Lisa Robinson
Little Dragons has been fantastic for my 6 year old son Daniel. He has been going for a year now and absolutely loves it. He has a great enthusiasm for it and learnt all about respect, behaviour, and discipline but importantly for a child of his age Renshi, Martyn Harris always ensures there is a fun element which has really helped Dan to develop a love of Karate and be inspired to eventually be " a black belt just like Renshi"Jan Payne